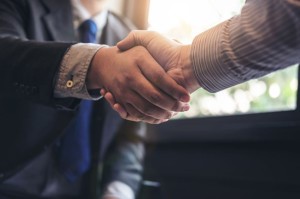 We know how important it is to find the right property management firm partner. But it can take time and consideration before committing. You want to look for several things when finding that ideal partner.
First, you need a management company that you can rely on. You need one who can help you find the ideal tenants. A partner who knows how to increase marketability is also essential. Plus, they must work with trusted and experienced vendors. Overall, a property manager needs to be available, reliable, honest, communicative, and an expert in what they do.
So how do you determine if you've found the right one?
Ask the property manager some questions regarding what they can offer you. Check out their website and see what information you can find out there. Read reviews to see how past or present clients have felt about their services. And see if they have a brand promise that incorporates essential items you're looking for in a property manager.
At PMI, we strive to provide exactly what our clients need. We have the experience and expertise you can trust. We also have a brand promise that backs this up, which we'll dive into below.
Effective Communication
Lack of communication can result in misunderstandings, things falling through the cracks, and injured relationships. If your property manager can't communicate effectively, they'll only be hurting your business. We know this is true, so communication is in our brand promise. It's an essential tool for successful partnerships and one of the most critical for managing properties.
Because of our commitment to effective communication, you can trust that we'll keep you informed. You can also know that any communications we have with your tenants, guests, or homeowners within your association, will be handled with the utmost care and clarity.
Honesty/Integrity
No one wants to partner up with a company they can't trust. But, if you're looking for a partner to help manage your property, you need someone you can genuinely rely on and one that doesn't keep you in the dark.
At PMI, you can trust that we won't mislead you. We're committed to being honest and living with integrity. We know that a great property manager is an honest one.
Accurate Accounting
If accounting isn't handled correctly, it can lead to financial trouble — spending can get out of hand, you can run into issues with your taxes, and you won't have a clear picture of how your investment is doing. This isn't good for anyone involved! However, not everyone is skilled at accounting, so if you're not an accountant, you need to rely on a company that can offer accuracy!
The good news is accurate accounting is in our brand promise. We know how important it is for an investment to be a success. Regardless, if you're a landlord of a residential, commercial, or short-term rental property, you can rely on us to handle your accounting with proficiency. And, if you're a part of an HOA board, we'll express complete transparency with you.
PMI provides a monthly financial packet to each board member. It includes several documents, including the financial statement, so that board members can see the HOA fee income and the expenses to vendors or service providers such as utilities, landscapers, snow removers, etc. Once the board approves, the monthly financial reports are uploaded to the portal so all community members can see them.
Management Availability
Can you imagine working with a property manager that you can't get a hold of? Maybe you have already. We completely understand how frustrating this can be. However, the significant reason for working with a property manager is knowing that they will be available when you or your guests/tenants/homeowners need them. That's why we take this so seriously!
You can call us anytime. We also make it easy for your guests/tenants/homeowners to reach out to someone when they have a question or issue to address. We've got your back every step of the way!
If you own a residential, commercial, or short-term rental investment property or are on an HOA board, you must find the perfect-fit property manager. You can't just rely on anyone to meet your needs. You require someone who exudes excellence. That means digging deeper — asking questions, getting to know the company, learning about their brand promise, etc.
Make sure they can offer you exactly what is needed. Find someone well experienced and has a good reputation — someone you can sincerely trust. Call us at (409) 800-6500 to learn more.